AUTOMOTIVE EXHAUST CONNECTOR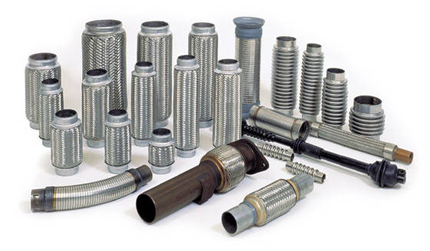 AMBICAFLEX automotive exhaust connector is manufactured from thin wall welded tube. Welded tube's wall is formed
in between rolls for corrugation then after external wire braid applied on corrugation tube. It is flexing thought corrugation.
For have vibration requirement there is two layers of welded tube is used also for improving exhaust flow connector is
designed with inner liner of strip wound hose or wire braided.
1. CONTRUCTION MATERIAL:
2. APPLICATION:
In the exhaust manifold on the cylinder block of motor vehicle
For provide motion, thermal compensation and isolate vibration of exhaust system
For adjusting misalignment in exhaust pipeline
Absorbing vibration and stresses for noise reduction
3. SIZE RANGE:
32MM (1 ¼" Inch) To 100MM (4" Inch)