STAINLESS STEEL CORRUGATED HOSE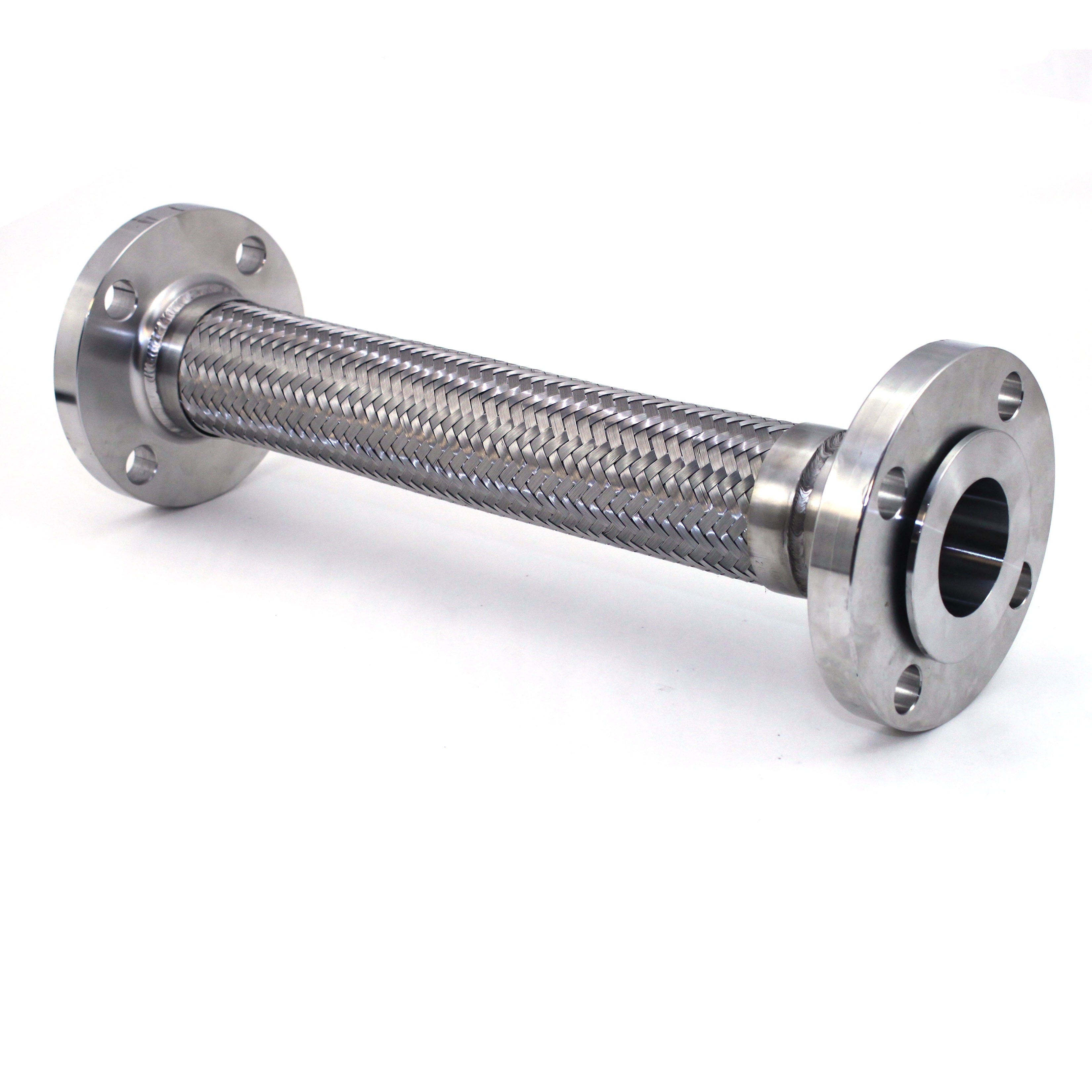 1. CONSTRUCTION
AMBICAFLEX stainless steel corrugated hose construct from stainless steel strip that is rolled and the edges welded together to form a thin-walled, gas-tight tube. After the tube has been welded, corrugations are formed into the tube to make it flexible. Corrugations are formed into the tube either mechanically or hydraulically (Hydro forming).
2. CORRUGATION PROFILE
There are two corrugation profiles, annular and helical.
a. ANNULAR PROFILE

In the Annular Profile Independent corrugations, straight and parallel.
b. HELICAL PROFILE

In the Helical Profile One continuous corrugation that spirals around the hose
3. WIRE BRAIDING
To give corrugated hose the ability to withstand pressure, stainless steel wire is braided over the hose. Hoses may be single braided (one layer of braid) or double braided (two layers of braid) to achieve even greater working pressures. Braided braid is used on large-diameter hose. Designing the proper braid for each type of corrugated hose requires sophisticated engineering to maintain the proper balance between the braid strength and the hose's flexibility.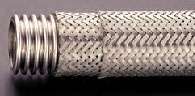 4. CONSTRUCTION MATERIAL OF HOSE
Stainless Steel 304
Stainless Steel 316L
5. CONSTRUCTION MATERIAL OF WIRE BRAIDING
6. APPLICATION
As suction and discharge pressure hose for oil, steam, liquids, chemical and liquid gases etc.
Suitable for Petrochemical, Chemicals, Pharmaceutical, Food, beverages, Oil and Gas etc. industry.
As a vibration absorber for pipeline
As pump connector at inlet and outlet side of pump installation
As loading and unloading hose for liquid bulk transfer by truck and storage terminals
7. ANUULAR CORRUGATED HOSE SPECIFICATION
| | | | |
| --- | --- | --- | --- |
| Nominal Inside Diameter MM (Inch) | Minimum Bend Radius MM (Inch) | No. Of Braid | Maximum Working Pressure Kg/Cm² |
| 6 (¼") | 110 (4 ½") | | |
| 12 (½") | 135 (5 ½") | | |
| 19 (¾") | 200 (8") | | |
| 25 (1") | 225 (9") | | |
| 32 (1 ¼") | 250 (10") | | |
| 40 (1 ½") | 275 (11") | | |
| 50 (2") | 325 (13") | | |
| 63 (2 ½") | 400 (16") | | |
| 75 (3") | 450 (18") | | |
| 100 (4") | 550 (22") | | |
| 125 (5") | 700 (28") | | |
| 150 (6") | 800 (32") | | |
| 200 (8") | 725 (29") | | |
| 250 (10") | 850 (34") | | |
| 300 (12") | 1100 (44") | | |
8. HELICAL CORRUGATED HOSE SPECIFICATION
| | | | |
| --- | --- | --- | --- |
| Nominal Inside Diameter MM (Inch) | Minimum Bend Radius MM (Inch) | No. Of Braid | Maximum Working Pressure Kg/Cm² |
| 6 (¼") | 55 (2 ¼") | | |
| 12 (½") | 75 (3") | | |
| 19 (¾") | 125 (5") | | |
| 25 (1") | 225 (9") | | |
| 32 (1 ¼") | 155 (6 ¼") | | |
| 40 (1 ½") | 235 (9 ½") | | |
| 50 (2") | 275 (11") | | |